Discover the dark arts of online editing that can help you turn base content into digital gold.
Content marketing is a key opportunity for B2B firms to engage, inform and influence clients. But quality control remains a major challenge.
As B2B marketing teams look to develop a rich stream of content – such as blogs, news and comment – to populate online channels, they often rely on contributions from within the business or on repurposing existing material.
Even where these pieces are delivered as part of a formal content marketing strategy and editorial calendar, the source material is rarely fit for purpose in a digital world, and often gets posted with little or no editing. Small wonder that results can be patchy.
Here we share a few of the dark arts we employ to improve readability and maximise the search and social potential of online content.
Crystal-clear headlines
The headline is the single most important element of online content. It's the fundamental 'selling tool' of the content, and will heavily determine whether your content gets read at all.
Unlike in print, where various design features (such as images, pull quotes, captions and so on) can help attract readers' attention and provide context, headlines will often be seen in isolation in a digital world. On a page of Google results. In a tweet. They need to work extra hard to draw in readers.
Limit yourself to 65 characters if possible, with your primary keyword towards the front. This way the essentials remain even when the headline is truncated, such as in an email in-box. Using Google Adwords will help you hone the search terms where you can gain most traction.
Business readers tend to go online to gather information. They want a clear idea of whether an article is relevant and what they will get from it before they click.
For this reason 'How to…' headlines work well, as do the much-maligned listicle and questions that directly address the reader and provoke a mental response.
From the headline, is it crystal-clear what the article is about, and how it benefits the reader? Would you click on it?
Once you have crafted a few headline options, Google them too from an 'incognito' browser setting (as it doesn't prioritise results from your previous searches). If a competitor dominates a particular headline, you might want to think again.

A headline from Willis's Resilience magazine adapted from print to digital
Surefire summaries
Together with the headline, your article summary (and meta description) is another key opportunity to 'sell' the article to the reader.
A powerful, well-crafted summary will also be ready-made for sharing on social sites like LinkedIn (although you should always tweak the messaging to suit the channel).
This teaser info can make all the difference for someone who is in two minds about clicking through to your article, but often the summary is missing entirely from articles you see online every day. In others, the first couple of sentences from the main text are simply re-pasted as a quick-fix solution.
What are the questions the article answers? What are readers missing out on if they don't read on? What nugget of information can you use to spark their interest?
Again, try to include your main keyword in the first half of the summary and one or two related terms that are relevant to the topic and audience. Keeping the text to 155 characters will ensure essential information is fully displayed on Google, but under 110 is advisable to entice mobile users.
Broken-up bodycopy
Short and sweet is often considered the mantra for social sharing. But there is an increasing emphasis on longer forms too, as content creators look to quench Google's thirst for clarity, quality and authority.
Renowned usability consultant, Jakob Nielsen used eyetracking visualisations to show users tend to scan web pages in an F-shaped pattern. So rather than posting long dense tracts of text, employ a more accessible structure that your readers can scan easily first before they commit to a full read-through. To help Google (and your readers) to understand what your content is about, it pays to break it up with:
Clear subheadings – an obvious stopping point when scanning for relevant info
Short paragraphs – attention spans are short and readers will mentally skip large tracts of copy
Lists and bullets – helping time-poor readers in 'search mode' to digest data
The clearer you make the content of the article, the easier it is to digest and the quicker your audience can decide if it is worth reading in detail and sharing with colleagues and contacts.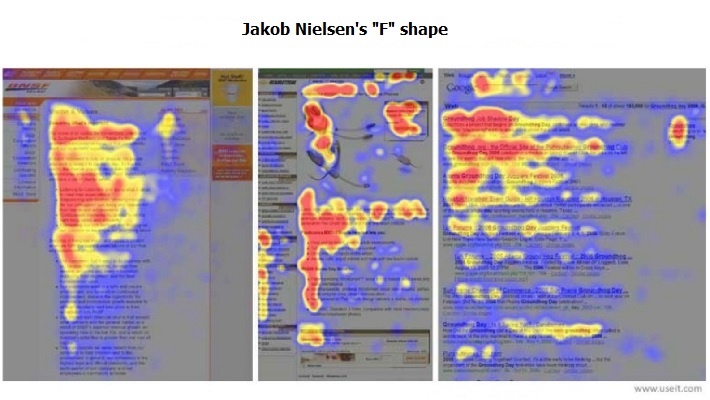 A higher authority
Trust is a fundamental part of the B2B buying process. Including keywords and links will help Google to rank your pages as a credible and trustworthy source of information on a particular topic:
Relevant keywords – These should only be used naturally and sparingly throughout the text. Think about the words and phrases your audience would use, remembering that they may not know the technical jargon or refer to the topic in the same way that you do.
Internal links - Internal links should be used to cross-reference other relevant content on your site. Again, this will help Google understand the subject matter and context of a particular page, as well as pointing readers to useful information to aid their decision-making.
External links – Try to include at least one reference to a credible and authoritative external site or source, such as a professional trade publication or industry body. Supporting evidence is good for your story and can help you earn backlinks to build your site's authority.
You can read more on how Google ranks web content in their Webmaster Guidelines.
Visual elements
Your content has to work hard to compete for attention in the digital world. As well as providing a more memorable and stimulating experience for the reader, it is a simple fact that pages incorporating photos, illustrations, graphics and, in particular, video, will rank higher than those that don't.
Adding properly tagged visuals with a title, caption and supporting text using relevant keywords will boost SEO potential and give you a richer range of content with which to fuel your social channels.
Remember that any text that appears embedded within a graphic or image won't be picked up by the search engines, so you need to replicate or refer to the subject matter in the text.
Even if budget is an issue, or the article doesn't lend itself to an obvious visual treatment, there may still be sections such as key stats or lists that can be quickly pulled out as a simple graphic.
Digital marketing exponents Econsultancy also shared some handy resources in their recent blog: 17 visualisation tools to make your data beautiful.
A call to action
B2B content should be produced with a specific purpose in mind, helping to move your audience along a defined business development pipeline. So every piece of content you post online should encourage readers to take some sort of action.
Do you want them to share with their network, post a comment or get in touch? Is there related content they should look at? An email alert to sign up to? An event to attend? Then let them know.
Remember that no matter how good the content is, a fair percentage of readers will stop reading your article before the end. So if you want your key messages to be read, and shared, it makes sense to include them, or at least flag them, earlier in the article.
This could be in the form of ready-made tweets, a key points summary, a simple reference in the body text such as 'Join the debate in our LinkedIn group', or a teaser such as 'A further reading list appears at the end of the article'.
Tweet: "Every piece of content you post online should encourage action" bit.ly/1RDw3lY #B2B #content #marketing via @gristonline
Proof of concept
Due to lack of time or budget, a proper proofread is one stage that is often skipped by in-house teams in the rush to post regular content on B2B sites. But by failing to check the content against an editorial style guide, a number of impurities will slip into the final content.
Typos, grammatical errors and irregular terminology not only leave a poor impression on the reader, they will also undermine the SEO potential of your pages, where consistency and context are rewarded.
Experiment and refine
The art and science of writing for the web isn't quite as elusive as alchemy, but it takes time and energy to get the best results.
Many of Google's algorithms remain shrouded in mystery but by applying the key principles of optimisation, and measuring and refining the process, your digital content will be much more likely to shine.
What aspect of digital content creation have you found the most challenging? You can share your thoughts or questions with us on Twitter and LinkedIn.
---------------------------------------------------------------------
Discover more
Grist runs bespoke training sessions on content marketing strategy and writing for the web designed for content creators, managers and marketers in B2B firms. For more information, please call Andrew Rogerson on 020 7434 1445.