Content marketing should be one of the most effective means for advisers to reach their target audience. But marketing directors are clearly not exploiting this opportunity to its full potential. Our Value of B2B Thought Leadership Survey reveals why.
If you want to know how to create content that works – compelling, helpful, brand enhancing – first you need to face up to failure. You need, in other words, to identify what doesn't work and understand why the content produced to date leaves readers underwhelmed or, more likely, the content unread. Fortunately, Grist's first Value of B2B Thought Leadership Survey is definitive on the subject.
With expert help from independent research company Coleman Parkes, we surveyed over 200 senior executives from FTSE 350 companies, to understand when, how and why they reached for thought leadership material produced by their advisers. Asked what turns them off thought leadership, three reasons stood out. The majority of respondents said that they disliked content that was:
Too generic – not directly relevant to me (63%)
Lacked original insight or ideas (58%)
Promoted the adviser rather than addressing my problems (53%)
In other words, the best way to alienate a chosen audience is to produce generic, unoriginal content written from the supplier point of view rather than the client point of view. This should be the stuff of 'content marketing 101'. Instinctively, every marketer should know this is the wrong way to do things yet those in receipt of thought leadership are obviously experiencing it every day.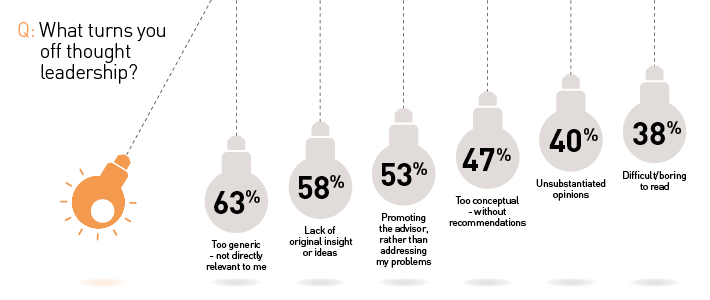 To underscore these areas of the failure, the survey asked respondents what qualities they found most valuable in thought leadership. The top three responses?
Fresh thinking: exploring issues or challenges from new and different perspectives (46%)
Forward-thinking: analysing important or emerging trends (32%)
Evidence-led: containing robust data (29%)
Original and specific, in other words.
Finally, it's worth considering the other reasons why senior executives are turned off by thought leadership. Namely, material that was:
Too conceptual – without recommendations (47%)
Featured unsubstantiated opinions (40%)
Difficult/boring to read (38%)
These responses were chosen in fewer numbers but they are pertinent nonetheless.
Treat all six responses – and the top three in particular – as a checklist. Test every piece of thought leadership commissioned and written against the list. If it fails the test by being on the list don't press publish.
To find out more about the Value of B2B Thought Leadership Survey and download the full results, click here.