Think like a publisher, act like a publisher. At Grist we believe this is a useful maxim for B2B firms looking to extract maximum value from the content they produce. But perhaps it sounds a little glib, an empty aphorism for the overworked marketer who is not an editor by trade and whose role extends far beyond content.
Yet, dig a little deeper and you'll begin to understand what thinking and acting like a publisher might mean in practice. Part of that is about a handful of tools that editorial teams have long been using. Why? Because they make the process of planning, creating, distributing and measuring content easier, more consistent and more effective.
Six of the best
These tools include:
Client personas – an agreed, and collectively sourced, portrait of key decision makers including their background, demographics, behaviours, motivations and needs
Content templates – a detailed plan for each content type identifying purpose and structure
Content calendar – a shareable resource that lets the marketing team take into account other key initiatives – from industry events such as seminars and conferences to new office launches and individual sector initiatives – across the year
Article briefs – a tightly written commissioning brief that sets out the purpose and scope of the piece, the target audience, word count, narrative structure and desired outcome
Editorial style guide – an agreed approach, including tone of voice, to the written word
Analytics – a consistent set of performance indicators that allow the marketing team to measure and monitor implementation and delivery
Convinced that these form an effective B2B content marketing toolkit, Grist surveyed senior marketing and communications professionals at a range of professional services firms to gauge adoption levels. The results surprised us. Those surveyed use an average of just 2.4 editorial tools. Moreover, nearly one in five firms (17%) don't use any of the above, and even the most popular tools – content calendars, content templates and article briefs – are used by less than half of B2B firms. This might explain why only a third of organisations have an articulated content marketing strategy and few are truly satisfied with their content marketing efforts to date.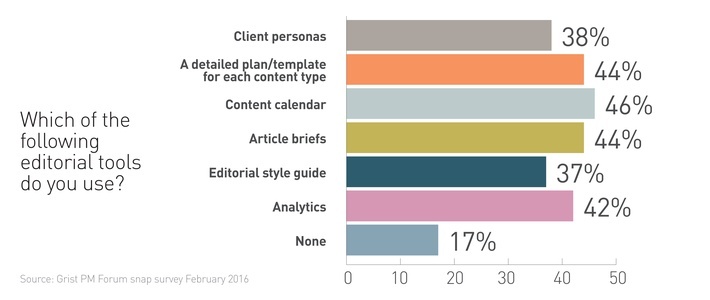 Why such low adoption numbers? It might in part be due to a lack of awareness. More likely, it is down to a lack of time – overstretched marketing professionals will struggle to find the time to put these tools into place even though they suspect they might save time and pain in the long run. There are dozens and dozens of tools that claim to help with content marketing so it's hardly surprising that many marketers choose to cover their ears to shut out the noise.
The benefits
But of the array of tools, the six above are the ones that really matter. Smart content marketers should use these tools for three reasons, at least. They:
Provide a framework for collective thought, forcing the marketing team to articulate what it is trying to achieve
Create a benchmark to judge new ideas and offer a means of measurement and refinement
Codify a consistent set of standards – brand pillars, corporate messages, tone of voice and so on – that can be passed down and across the organisation, providing continuity and avoiding corporate amnesia
These tools will impose an editorial discipline on the process. These tools will ensure knowledge and best practice are shared. These tools will test your assumptions about your target audience – who they are, what motivates them and what they need. Piecing together a persona for a key purchasing decision maker, for example, forces strategic and structured thinking.
In the coming weeks we'll explore each of these tools in more detail. We'll explain how they work and how to use them. And we'll provide ready-made templates for you to download.