We recently started working with PwC on a thought leadership programme, and as part of the process of getting to know them better I've been reviewing their content marketing.
As you would expect from the world's largest professional services company they do some deeply impressive and innovative work – much of which I was already familiar with, but it also threw up some interesting and inspirational new finds.
Here are five of the best…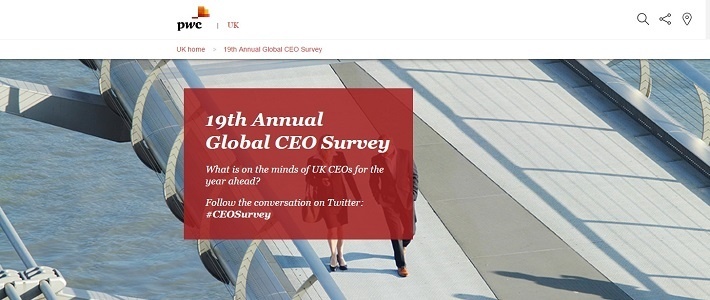 PwC's flagship Global CEO Survey, now in its 19th year, is a barometer of how some of the world's leading executives are responding to global trends and has set the benchmark for professional services thought leadership for many years. Data and insight from a survey of over 1400 CEOs from 83 countries, is supplemented by in-depth interviews. But it has come a long way from the old days, when all this insight was buried in a single report; it is now sliced and diced into dozens of formats for different channels and user groups, including 21 industry sectors and 16 regional markets.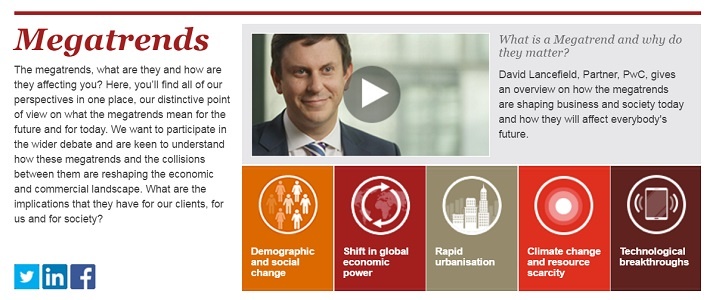 This is another example of PwC seizing the high ground: how global megatrends are reshaping the world. They take an organic, flexible and inclusive approach, stimulating wider debate around how these megatrends and the 'collisions' between them are reshaping the economic and commercial landscape. The platform draws all perspectives into one place, highlights PwC's distinctive point of view on what the megatrends mean and enables conversations around implications for individual business lines and organisations.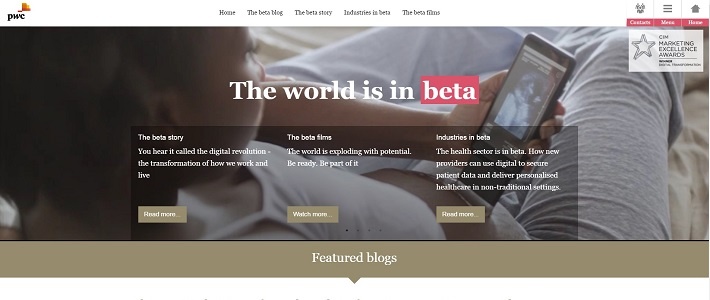 PwC take things much further with one of the megatrends in particular: how technology could transform business and society. They challenge people to look at the world around them in a different way; to re-evaluate who they are and what they do. And PwC practice what they preach in this award-winning campaign: cutting-edge design, bite-sized formats and purposeful interactivity. The homepage highlights how the digital world is literally changing before our eyes: with real time data on how many patents and trademarks have been filed, emails sent, online purchases made while users have been at the site.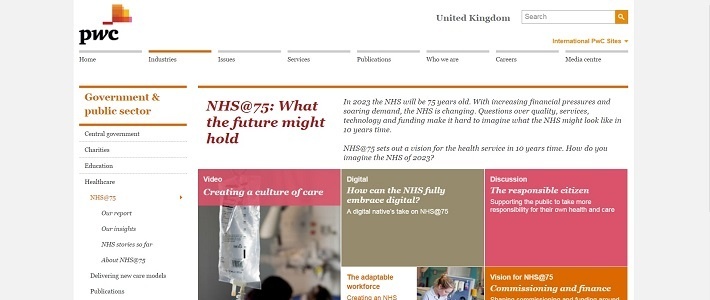 This is a great example of sector-specific thought leadership, with a memorable angle: what will the NHS look like in 2023, when it is 75 years' old? PwC don't take the 'easy' route of expert speculation though, they bravely engage the public in what is one of the most emotive issues affecting the UK today. They commissioned a Citizen's Jury: a two-day workshop with 30 representative people, to understand what is important to citizens and patients when it comes to quality in the NHS. It allows PwC to engage with the 'man on the street,' communicating viewpoints and starting conversations across the board; it also provides great headlines and news.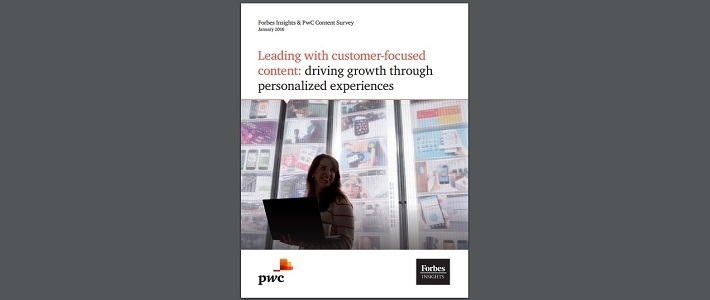 PwC also develop the theory, to back up the practice. They commissioned Forbes Insights, to survey over 350 senior-level executives at large companies around the world about their content marketing. Their findings reflect recent Grist research, namely that many companies lack a content strategy and find themselves producing random content in silos across the organisation. The research identified three distinctive groups of respondents from savvy 'trailblazers', through the bulk of 'explorers' and a smaller group of 'nomads' trailing behind the pack. They offer advice for all three groups, and recommend five key practices:
Start with business priorities
Appoint a senior-level content champion, with responsibility for strategy
Mine data to learn about the target audience, then create and deliver relevant content
Invest in content marketing capabilities, including technology, data integration and analytics
Consistently measure and report, then optimise content, based upon learnings.
"Yesterday's content strategies revolved around pitching products via a predictable set of proven channels," conclude PwC, "today's seek to use a widening array of touch points to create an integrated and relevant customer experience."
Sound analysis… as you'd expect.