Talking to the C-suite can be tough. Scary, even. But you'll need their approval to get thought leadership off the ground and you'll want their support to make it fly. Improve your chances of getting that all-important backing with these tips from our guide, 'Getting buy-in from the board for thought leadership'.
You may be lucky and have a board that understands the reasons behind thought leadership and will happily send more budget your way. But it's more likely that you'll need to sell, sell, sell to get their buy-in. That's where you need to learn to speak the language of the C-suite, align your wants with their strategy and interests, and ensure you can point to hard metrics that lead to revenue.
The metrics that sell

Your C-suite doesn't care about impressions, follower numbers or unique views; they don't understand how that brings profit to the business. Marketers have gotten better at this in recent years, and are now talking in terms of business strategy, sales and revenue. When selling-in your thought leadership programme, think less about consumption and sharing, and more in terms of lead generation and sales
If you've never done a thought leadership survey, turn to case studies and reports from those who have; your agency will be able to help with these. Of course, your own metrics will speak volumes, too, if you're lucky enough to have some. You want to focus on how content consumers turn into leads, and how you track that lead from the first content touchpoint all the way through to conversion.
And if you can show thought leadership has helped an existing customer to buy more, all the better. CRM systems these days can often provide actual lead scoring, giving you a better understanding of when they are a strong, qualified lead. This is a story you should tell your C-suite.
Aligning with business strategy
Marketing can still, in some cases, be seen as the 'colouring-in department' or the ones that spend huge amounts on conceptual advertising. This is one of the biggest challenges a marketer must overcome when selling-in a thought leadership programme to senior executives. To make sure your message resonates, try aligning it to concepts near and dear to their hearts: the business growth strategy, generating sales and revenue, and lead generation.
Show how your thought leadership programme aligns with the overall vision for the company, or the brand story, or this year's growth objectives. Take those objectives and detail how your thought leadership plays into them exactly. Ask how this output will help drive that objective, or how the survey questions can gain insights to help the company achieve its annual target.
To get the sales leaders on board, build your programme into the sales funnel, detailing how this one survey will generate outputs that help their sales team reach out at every stage of the customer journey. It's not just about top of funnel awareness content; your survey will produce unique insights the sales team can drop into all conversations, and new content that gives them a reason to reach out and help nurture a prospect towards conversion.
Getting the right idea
That is all well and good, but none of it will happen if you don't have a strong idea in the first place. This can be part of your selling-in process, too; by asking for input from your senior executives at the ideation stage, not only will you ensure the topic of your thought leadership aligns with business goals and strategy, but that your senior management are bought into the idea because it came directly from them.
Try surveying colleagues about the issues and challenges facing their clients, and then brainstorm how that could be worked into an angle for your thought leadership. Make sure the topic is closely aligned to your brand, though – something that you could be considered an authority on. You could even consider pre-testing your topic with your target audience, perhaps by a shorter blog post or a pre-emptive survey of a handful of clients. You want to make sure your resulting programme adds to the dialogue rather than adding to the noise.
Price and economies of scale
Marketers often rule out thought leadership surveys because they think they'll be out of reach – too expensive, too resource-intensive, too much trouble. And yes, if you want to do a global, multi-sector survey to fulfil multiple objectives, then they can be at the higher end of those scales. But they don't need to be; there are leaner, targeted, equally effective options available, too. You might opt for a niche sector, or a single job role, or look to answer one question for your industry.
Those larger surveys should not be considered out of reach, though. If you consider the vast amount of content you can generate from a large survey – from regionally based versions of reports to individual comparisons and country-specific or sector-specific programmes – then the survey must be considered as an economy of scale. Yes, it's a large spend on a single item, but its impact on your annual output can make it more than worthwhile.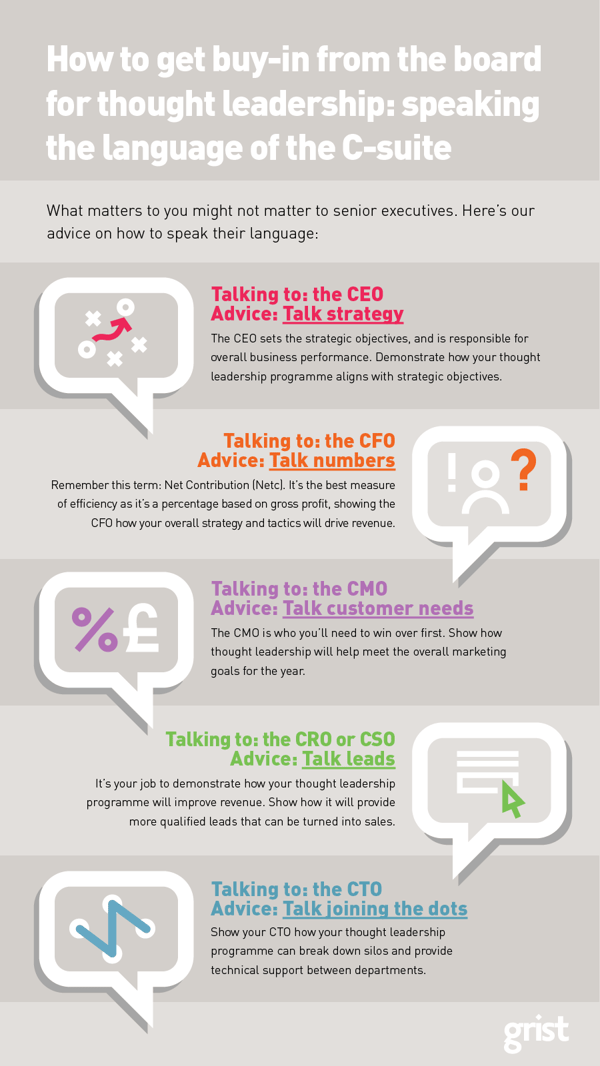 For more tips and advice on how to sell-in thought leadership download our guide: How to get buy-in from the board for thought leadership.