In the last of our series considering the PESO model we're going to look at 'o' for owned. Having examined how to amplify content through paid, earned and shared media it's now time to look in your own backyard – to examine what constitutes an owned asset, what you should be offering on those platforms and in what form.
What you own
The website. The sun around which all other digital properties orbit. A good website should combine the useful essentials (company, product and services backgrounders, contact information and so on) with the essentially useful (thought leadership, case studies, explainers, and so on).
The blog. An outlet for company updates and a place to amplify all the content that lives elsewhere. The tone should be conversational and accessible.
The social network. The most used social networks for B2B marketing are Twitter and LinkedIn. A Twitter presence, like a blog, can be used for company updates and to promote – via a link – thought leadership and other content elsewhere. But it should also be used as a place to engage with clients who want to engage with you and a place to share things that will be of interest to those clients and prospects. Those things you share may – indeed should – include things you didn't originate yourself. Apply similar thinking to your approach to LinkedIn but remember this professional network also offers a platform to set out company information (Company page), product and services information (Showcase pages), thought leadership (Long-form posts) and engagement (Groups).
The Wikipedia page. Not technically something you own, of course, and any underhand manipulation will ensure the wrath of the Wikipedians. Nevertheless, given that Wikipedia pages often appear above your own website on the Google results page, you are entitled to monitor these for errors of fact and to ask for updates and changes.
The app. Not necessarily a replication of all that lives on a native website, the smartphone app should offer something different, something specific. For example, it could be the destination for all video explainers, perfect snacking material for the mobile users and an excellent way to repurpose existing content.
The print publication. Remember this is not just a digital world. Print continues to offer its own benefits. It provides impact, longevity and a physical presence. A monthly or quarterly client magazine in reception or delivered to the desk of a well-targeted client is there to be browsed. It's portable – arguably the mobile-first media technology – and it underscores brand identity. It is also the original source of all that high-quality content ready to be unbundled, repurposed and amplified.
The individual. Not that you own your employees, of course, but their contributions across social networks (where the personal and the professional persona meets) and at client meetings and conferences, can prove critical in amplifying the company message and adding individual credibility.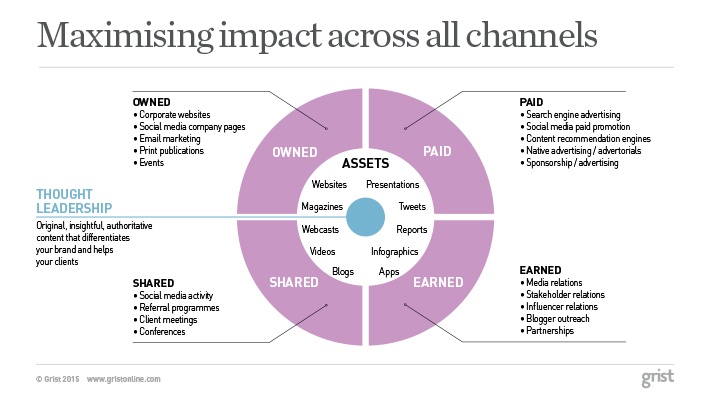 What you offer
Thought leadership. A signal of credibility within an industry sector, thought leadership pieces – sometimes simply referred to as opinion or analysis pieces – should explain and contextualise complexity in simple terms. This is not about showing off knowledge of industry-specific terminology. Rather it is a demonstration of a thorough understanding of client needs and the ability to explain, analyse, interpret and offer valuable insight.
Read more about our 8-stage process to plan effective thought leadership programmes.
Company information. The 'About us' page may lack glamour compared to other content marketing strands but it is one of the most visited pages among key influencers – analysts, journalists, potential investors, future employees and, perhaps most significantly, those ready to convert from prospect to client. So make sure you get it right. By all means use it to convey the organisation's values and its mission but first ensure readers understand what you do in practical terms and in the context of the broader industry.
Client stories. The case studies demonstrate an organisation's ability to answer a practical need and allow it to bask in the reflected light of companies with household name recognition. The case study, told in narrative form, reassures a would-be client that you have understanding, credibility and experience.
Product and services information. As with the 'About us' page this is baseline content, there for when customers and would-be customers need it. So make sure it's up-to-date, written simply and provides all the points of comparison an informed reader, likely to be looking at your competitors' sites too, would expect.
Explainers. In every industry there are trends, concepts, services and technologies that need illumination. Don't assume that a client understands it all – as Google knows, your clients are regularly looking for simple, well-structured and speedy explainers.
How you offer it
Via text, video, infographics, images and audio. Digital platforms allow for multimedia experimentation. While smartphone users are likely to be attracted to short, sharp video explainers as well as longer, more leisurely podcasts, desktop users might be more likely to seek out a 45-minute webinar or a 1,000-word case study.
Remember all these content types have a shared genesis: an idea that has been unbundled, repurposed and amplified.